"This post contains affiliate links, and I will be compensated if you make a purchase after clicking on my links."
Pros
Crisp steering and good handling on the road, almost like a highway tire
Strong braking on dry surfaces
Excellent handling and braking in the rain for an all-terrain tire
Very good hydroplaning resistance
Very smooth and quiet ride for an all-terrain tire
Exceptional stability and traction on hardpacked surfaces, such as dirt and gravel
Good traction and stability on loose sand
Available in LT-metric sizes for larger trucks and SUVs, or for towing very large trailers
Best treadlife in the category, combined with an outstanding 60,000-mile treadwear warranty
Cons
Snow traction is below average for the category
Definitely not the best choice for deep mud
Far from the best option for rock crawling in the category
Could do better on turf
Driving a truck is an experience in itself. You sit higher than most drivers and have various abilities at your disposal, including better off-road traction and outstanding towing and hauling capacity. In order to get the most of your truck, though, you'll need a set of good tires.
Currently, all-terrain tires are the most popular tire type for trucks and SUVs. That's because these tires work both on paved roads and off-road terrains. The thing is, there is a significant difference between all-terrain tires from various manufacturers.
Case in point, the Michelin LTX A/T2 is a tire that's clearly designed with a focus on paved roads, as opposed to the Goodyear Wrangler All-Terrain Adventure with Kevlar, for example. The French tiremaker still markets the product as off-road capable, but the question is – to what extent?
Fortunately, you arrived at the right place to find out how the model stacks up against the competition. In this detailed Michelin LTX AT2 review, I'll cover every aspect of the tire, including on-road dynamics and comfort, off-road traction, and treadlife and durability.
Michelin offers the LTX AT2 in various LT-metric and P-metric sizes, ranging from 16-inch wheel diameter to 20-inch wheel diameter. That way, the company covers most trucks and SUVs currently driving.
Let's dig in and see if the tire deserves its place on those vehicles.
What are the features of the Michelin LTX A/T2?
According to Michelin, the tire is designed for on-road refinement, long life on gravel, and all-terrain traction.
The French tiremaker utilized and advanced truck rubber compound designed to work in warmer and colder climates. The rubber is molded into an independent tread block design, which features Michelin Biting Edges for better traction in dirt, mud, gravel, wet grass, and snow.
Like most Michelin tires, the LTX A/T2 features the Advanced MaxTouch Construction, which ensures long-lasting performance. Moreover, the Comfort Control Technology with computer-optimized design takes care of reducing vibrations and noise for a comfortable ride.
Depending on the load range (LT-metric or P-metric), the internal construction of the tire features either two or three steel belts.
What are the maintenance indicators?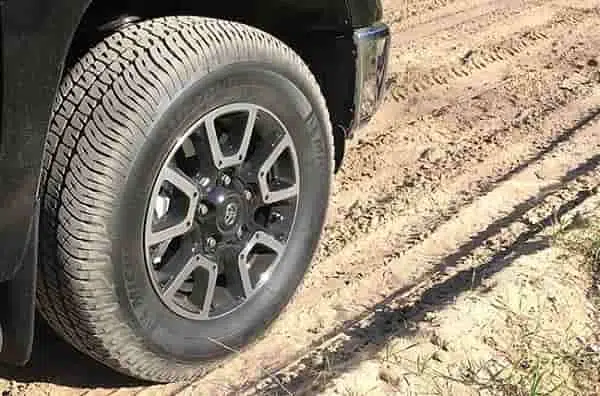 The tire features the industry-standard TWI's (tread wear indicators), which you can use to monitor the tread depth.
These narrow rubber bars become flush with the surface of the tread when the depth reaches 2/32-inch. That's the minimum legal depth for secure wet traction. However, you might want to replace the tires sooner, since they will already have less snow and off-road traction.
Fortunately, the LTX A/T2 is one of the most durable all-terrain tires on the market. Owners are very satisfied with the treadlife, and Michelin provides an outstanding warranty of 60,000-miles on all sizes.
How does it behave on a dry tarmac?
Even after the first few miles, it's obvious that Michelin focused on making the LTX A/T2 a good on-road tire. The steering is more responsive than most all-terrain competitors, which makes the whole driving experience a tad better.
And it's not just how the tire feels. The level of longitudinal traction it offers is simply outstanding for an all-terrain tire. Your truck will accelerate without wheel spin, and the braking distances will be very, very short for the category.
Moreover, the tire also feels surefooted and stable on the highway. It's so good that most drivers will never notice that it's an all-terrain tire – it performs almost like a highway one. Ultimately, the cornering grip is excellent for the category.
Overall, the LTX A/T2 is one of the best all-terrain tires for daily driving, on-par with the Continental TerrainContact A/T. It's safe, communicates well with the driver, and feels stable. What more could you ask?
How is it over wet and slippery roads?
Michelin knows a thing or two about building tires that perform great in the rain. That shows in the LTX A/T2, which is among the best all-terrain tires for wet conditions.
The tire doesn't lose its responsive nature on wet roads and feels great to drive. Additionally, it bites immediately, giving you a lot of confidence behind the steering wheel. The longitudinal traction is also excellent. This means that you won't experience too much wheel spin during acceleration, and the braking distances will be very short. Also, the hydroplaning resistance is very good, which enhances stability in very heavy rain.
The LTX A/T2 handles very well in the rain. The grip levels are among the best you can find of any all-terrain tire. Moreover, the tire feels very good at the limit – it doesn't exhibit understeer or oversteer. Overall, the LTX A/T2 is an excellent performer in the rain.
With that being said, how is it on snowy roads?
Modern all-terrain tires perform pretty well in snowy conditions, primarily thanks to the aggressive tread pattern. However, for truly outstanding traction on snow, the tire needs to have multiple sipes across the tread, preferably waved or zig-zag ones. And, the Michelin LTX A/T2 has none.
You can still expect better traction than on most highway tires, but still not enough for carefree driving in the winter months. Put simply; the competition performs better, especially tires that have the 3PMSF rating (Three-Peak Mountain Snowflake).
Specifically, the LTX A/T2 lacks longitudinal traction, especially when braking, and doesn't handle particularly well. I recommend real winter tires for people that live in areas with harsh wintry conditions.
Is it suitable for off-road driving?
Michelin isn't the first brand that you think of when talking about off-road tires. The French company never truly excelled in this category – they are more synonymous with the Pilot Sport high-performance program. Which, of course, got me interested in how the LTX A/T2 handles various terrains.
From the look of it, the tire is geared more towards on-road driving. Conversely, competitors like Goodyear Wrangler All-Terrain Adventure with Kevlar and BFGoodrich T/A KO2 looks much more aggressive with their tread designs.
So how does the Michelin stack up? Well, it depends on the type of surface you're tackling. If your daily drive includes only dirt and gravel, then the LTX A/T2 is an outstanding choice. On these surfaces, it provides the driver with excellent traction and lateral stability. It's easy to drive and doesn't require a lot of corrections. Moreover, there is ample traction on loose surfaces, so shallow sand shouldn't pose an issue.
However, that's where the superlatives stop. The road-focused tread pattern starts to show its limitations if you try rock-crawling or attack deep mud. There is simply not enough traction for serious off-roading, especially if you're an enthusiast.
Therefore, I would recommend the LTX A/T2 only to drivers of regular trucks and SUVs that want slightly better off-road traction than a highway tire. If you own real off-roaders, such as Jeep Wrangler Rubicon, Toyota 4Runner TRD Pro, or Ford Ranger Raptor, there are better options in the category.
Is it comfortable and refined?
Just a decade ago, all-terrain tires were cumbersome to drive, uncomfortable, and noisy. Today, however, things have changed for the better. Moreover, the LTX A/T2 is one of the best examples that an all-terrain tire can be comfortable and quiet.
When it comes to noise, sure, you can hear a slight tread growl. Nevertheless, the noise is very unobtrusive and pairs well with the wind and engine noise. The subjective feeling is that this is one of the quietest all-terrain tires right now – it's truly a great companion on long journeys.
The ride quality is excellent as well. The tire absorbs smaller imperfections with ease, and it also doesn't transmit a lot of vibrations when you hit larger bumps or potholes. Overall, the driving experience is serene, almost on par with some highway tires.
You can see more Michelin LTX AT2 Review here: Video created by Adventuring Today
Should I buy the Michelin LTX A/T2?
Well, it depends on your priorities. If you're a hardcore off-road enthusiast, the LTX A/T2 won't cut the mustard. The tire simply lacks enough traction on demanding off-road terrain, and Michelin doesn't even hide that. This is an on-road-focused tire with some added off-road traction.
If you mostly drive on paved roads and only hit the gravel rarely, then the LTX A/T2 is an outstanding choice. The tire delivers excellent traction on dry and wet surfaces, rides outstandingly well, and doesn't produce a lot of noise. As a bonus, the treadlife is exceptional, and Michelin covers it with a 60,000-mile treadwear warranty.
So, if you can live with the compromises, I think that the LTX A/T2 is an excellent choice. There is definitely a reason why many truck manufacturers use it as an OEM choice on their new models.