"This post contains affiliate links, and I will be compensated if you make a purchase after clicking on my links."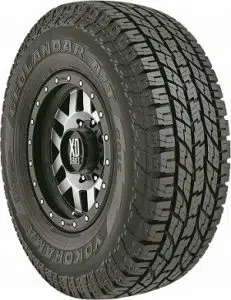 Pros
Superior off-road performance
Good for snowy or icy roads
Excellent all-season traction
Impressive durability
Cons
It's pricier than other alternatives
The Yokohama Geolandar A/T G015 is primed and ready for your next adventure! It offers superior off-road performance with high levels of comfort and refinement. Back in the old days, all-terrain tires were one-trick ponies. They offer assuring performance in off-road driving but suffer greatly on smooth roads. But with the advent of new tire technology and design, Yokohama was able to create a capable all-terrain tire with the smooth highway manners of a touring tire.
This may sound like I'm saying a lot, but tires have come a long way. All-terrain tires are now capable of soothing your back after a long day of off-roading. The Yokohama Geolandar A/T G015 is one of those tires. The chunky and aggressive design of the tire will also improve the rugged stance of your pickup truck or SUV. Best of all, you can continue driving when the roads turn from bad to worst.
In this review, we'll look deeper into the features and capabilities of the Yokohama Geolandar A/T G015. This will hopefully shed some light on whether this tire is the best choice for your vehicle.
How's the off-road performance?
The Yokohama Geolandar A/T G015 feels like a superstar in mild to moderate off-road driving. It seems like nothing can get in the way of the tires except for larger rocks and deeper mud. It's also good to know this tire is rated for severe snow conditions. So if you live in areas with long winters or heavy snowfall, the Yokohama Geolandar A/T G015 is one of the best choices bar none.
But there are limitations to what this tire can do. For example, it may be good in a snowstorm but it struggles when faced with thick, deep mud and large rocks. In those roads, you need more aggressive mud tires like the Yokohama Geolandar M/T G003. Yokohama also has the Geolandar X-MT, a tire designed specifically for rock crawling and extreme off-road scenarios. 
What are the features of the Yokohama Geolandar A/T G015?
I find it amusing that Yokohama prioritized longer wear and higher mileage in the Geolandar A/T G015. But the patented Enduro compound with special polymers is also engineered to maintain pliability in changing weather conditions. This special tire compound lowers the rolling resistance of the tire while maintaining superior traction in all-season driving. The tire comes with triple SD sipes on the treads. This helps to retain the block stiffness to promote even wear.
But the Enduro tire compound is also engineered to deliver utmost durability. It also boosts the resistance of the tire against cuts, chips, scrapes, and punctures. It even comes with sidewall protectors to prevent abrasions when traversing over sharp rocks. The Yokohama Geolandar A/T G015 also comes with deep circumferential grooves and special Edgetec grooves between the treads to create numerous biting edges. This feature enhances traction and grip in snow, dirt, or sand.
How does it perform in the street?
In terms of dry and wet traction, the Yokohama Geolandar A/T G015 is a winner. It offers relentless grip on dry surfaces while maintaining steady traction in slippery roads. It will take a lot of prodding to upset the tires in the wet, and that's a good thing if you drive mostly on smooth or wet highways.
The handling can use some improvement but at least the braking remains strong. This is not the type of tire for high-speed driving. If you have a fast SUV and want precise handling from a new set of tires, the Yokohama Geolandar H/T G056 is better suited for the application. But if your truck or SUV is mostly used in dirt roads or gravel, the Geolandar A/T G015 is the one to choose.
Is it quiet and comfortable?
It's a mixed bag. In terms of comfort, highway-terrain (H/T) tires are the king, but the Yokohama Geolandar A/T G015 will not disappoint. It is also relative to vehicle speed. The faster you go, the bumpier the tires will get. But at slow to medium speeds, the comfort levels are higher than usual, especially when compared to cheaper A/T tires.
But in terms of road noise or tire roar, it's basically the same principle. I like the whisper-quiet rolling abilities of these tires at slow speeds. The tires remain muted at average or cruising speed. But once you mash the pedal, the tires begin to emit a louder noise. The irritability factor depends on the type of vehicle, but it's definitely quieter than other A/T tires. I like the fact that Yokohama infused the DNA of an H/T tire into the Geolandar A/T G015. Mind you, this is not an easy feat given the chunkier treads and reinforced carcasses in these A/t tires.
How about tire wear?
Since the Yokohama Geolandar A/T G015 is basically four parts A/T tire and one part H/T, you can expect longer wear with no penalties in traction and grip. And if you're still concerned, Yokohama is sweetening the deal by offering a 60,000-mile limited treadwear warranty (on P/E-metric sizes) and 50,000-mile warranty on LT-metric sizes.
You can see more Yokohama Geolandar A/T G015 Review here: videos created by Rocket Scientist
Should I buy the Yokohama Geolandar A/T G015?
Here's the catch. The Yokohama Geolandar A/T G015 is not exactly the most affordable choice. The price is higher than comparable A/T tires in the same category. But if you think about it, you get a lot of value for money. Here is an all-terrain tire that handles severe snow while remaining comfortable and refined, and it even comes with a brilliant warranty. If your vehicle demands nothing less than chunky all-terrain tires, the Yokohama Geolandar A/T G015 is a solid choice.