"This post contains affiliate links, and I will be compensated if you make a purchase after clicking on my links."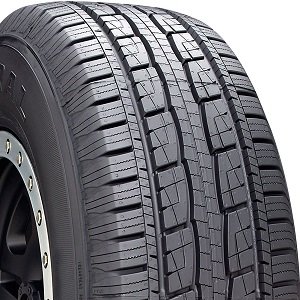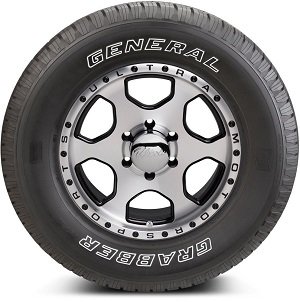 Pros
Very good on-road manners in dry and wet conditions
Usable on gravel
Comfortable ride quality on metric sizes
Braking in light snow
Very good treadlife
Cons
Can be noisy on the highway
SUVs and crossovers continue to have an even bigger impact on the automotive market – the roads seem to be flooded with them. That's understandable from the perspective of the buyer – these vehicles are more practical from a family point of view, and they show a better image to the surroundings. While we won't go far into explaining why these vehicles are so popular, we will certainly talk about a good set of tires for these cars. Why? Because tires are one of the most important things in a car, if not the most important.
If you didn't already know, tires come in different shapes and sizes, and different types. The most popular tire type for SUVs, trucks, and crossovers are highway tires. These tires combine excellent high-speed stability – very important for long highway drives, and outstanding comfort and quietness. One of the most popular highway tires on the market right now is the General Grabber HTS60. The reason why it's so popular in the US is, of course, the "Made in USA" moniker, but also its balanced qualities and fair price point.
More precisely, by balanced we mean that the tire is designed to offer very good results in almost any category like traction and grip in dry and wet conditions, comfortable ride over bumps, quiet rolling on the highway, and even some traction for light off-road use. It is even an all-season tire, which means that in theory, it should work throughout the year, even in light snow. The Grabber HTS60 might be the only tire you need on your SUV or truck, which is something that the average driver really needs.
This tire is specifically developed for crossovers, SUVs, pickup trucks, and even full-size vans. In other words, if you own a heavier and larger car, the Grabber HTS60 should be a great option for it. Fifty Metric sizes are available with wheel diameters ranging from 15″ – 22" and speed ratings of S, T or H. Twelve LT-Metric and Flotation sizes are available ranging from 15" – 18" and with a speed rating of R or S, intended for lager cars and tow or haul use.
Car models that are best-suited to the Grabber HTS60 are: Chevrolet Silverado, Avalanche, Suburban, Tahoe, and TrailBlazer; Dodge Ram and Dakota; Ford F-150, Escape, Explorer, Expedition, Ranger and Edge; GMC Canyon, Sierra, and Yukon; Honda Pilot and Ridgeline; Jeep Grand Cherokee, Cherokee and Wrangler; Land Rover Range Rover and Discovery; Nissan Titan Frontier, Armada, and Pathfinder; Toyota FJ Cruiser, Highlander, 4Runner, Sequoia, Tundra, Tacoma, and Land Cruiser.
What are the features of the General Grabber HTS60?
According to General Tire, the Grabber HTS60 is a tough highway terrain all-season tire that provides the perfect synergy of comfort, durability, and performance for light trucks, SUVs and crossovers. That is something that most highway tires strive for, but few of them deliver on that promise.
To achieve all those things, the Grabber HTS60 is equipped with DuraGen Technology in its arsenal. This proprietary General Tire tech provides excellent off-road durability, a quality that most highway tires don't offer because they're not really intended for off-road driving. On top of that, the HTS60 comes with the Comfort Balance Technology with sound barrier ribs, which gives a comfortable and quiet ride on the street, despite the tough construction.
General's StabiliTREAD Technology, which is also used in its ultra-high-performance models, makes for a flatter and larger footprint. According to General, this reduces tread stress and prolongs tread life. In the end, metric sizes are optimized for excellent grip in wet and winter conditions, while LT sizes are optimized for improved treadlife and stability under heavy load. It's really good to hear the General Tire put more effort into differentiating the metric and LT sizes because they are used in different scenarios.
Unlike most highway tires, the Grabber HTS60's construction has a cushioned absorption layer of rubber under the tread. This layer is the one that's responsible for the comfortable ride quality. Then comes the usual ultra-high-strength steel belts reinforced with spirally wrapped nylon that provides the tire with penetration resistance and stability at higher speeds.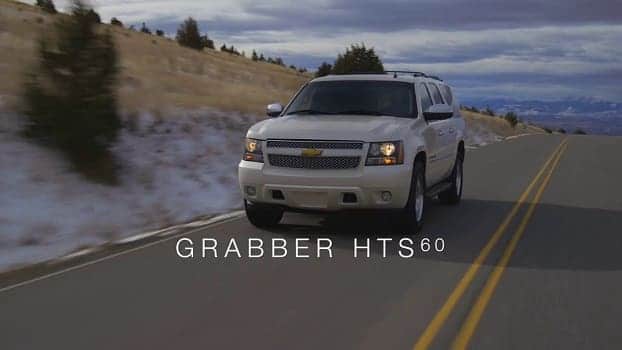 What are the maintenance indicators?
Unlike tire models from General that are intended for lighter vehicles, such as mid-size sedans and minivans, the Grabber HTS60 doesn't come with the RTM (Replacement Tire Monitor) that provides the owner with a warning when the tire is worn and has to be replaced. That's a shame, but we won't complain much because the HTS60 still has the usual wear indicators built into the biggest grooves of the tread.
The wear indicators on the HTS60 can be seen, but only if you look really close to the tire – otherwise, they're invisible to the naked eye. That said, they become more visible as the tread wears down. More precisely, you'll need to replace your tires when the wear indicators are flush with the tread because the tires will no longer be usable in wet conditions or light snow. Even if you don't use your car in rainy or wintry weather, it is recommended to replace them when the indicators are flush with the tread for your own safety.
That said, this won't happen soon – the Grabber HTS60 comes with limited treadlife warranty of 6 Years / 65K mi (S- & T-Speed Rated), and 6 Years / 50K mi (LT Sizes & H-Speed Rated) (Half mileage for the rear if different size than front). This is a very good result for a tire in its price range, but still not the best in the business. Some premium tires offer up to 80,000-mile treadwear warranty, and even if they cost more, they might be cheaper in the long run. Still, owners of this tire seem to be very satisfied with how it performs over time.
Is it good for off-road driving?
Highway tires aren't specifically designed for off-road driving. However, knowing that SUV and crossover drivers still want the added capability, General Tire made some design choices that give the HTS60 better traction during off-roading. This tire is very good for drivers that never venture on hard off-road ground but sometimes drive on roads that aren't paved. The HTS60 is actually excellent for driving on gravel. This is very important for commercial vans, but also for family drivers who want to take the family picnic on the next level.
That said, the HTS60 is nowhere near as close to all-terrain tires for other types of terrain like mud, sand, and loose rocks. It might work, but it will be very easy to get stuck somewhere. If you're serious about off-roading, buy tires that are specifically made for that purpose.
How does it behave on dry tarmac?
The Grabber HTS60 isn't the best highway tire when it comes to handling, but it is certainly among the best five. For example, the Michelin Defender LTX offers much better stability at higher speeds and better responsiveness in the corners, but it's not like the Grabber HTS60 is too much behind. On top of that, the Michelin is also much more expensive.
In other words, for the price, the General offers very good traction and grip, excellent high-speed stability, and strong braking performance. Most importantly, this is a very safe tire at highway speeds, which is something that the average SUV and crossover driver really needs.
How is it over wet and slippery roads?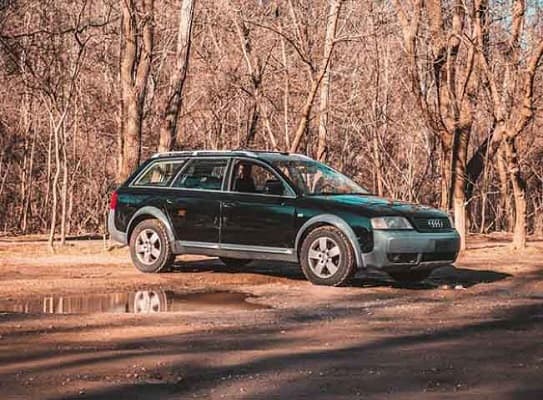 Again, the same story as with driving on dry tarmac. The Grabber HTS60 isn't the best tire for driving in the wet, but it's far from the worst. Seriously, there are much worse tires that cost roughly the same as the Grabber HTS60. And they don't come even close to the traction, grip, and braking this tire provides in damp conditions. Also, the Grabber HTS60 resists hydroplaning very well, which means that it is completely usable under heavy rain.
With that being said, how is it in snowy roads?
The Grabber HTS60 doesn't have enough grip nor traction in a light snow to properly replace a winter tire. That said, the braking it provides is pretty good, which means that you can use it in a stretch. That said, there are some premium all-season highway tires that provide even better braking, traction, and grip, so the light-snow performance of the HTS60 isn't its biggest forte.
Is it comfortable and refined?
The Grabber HTS60 isn't as noisy as all-terrain tires for sure, but it is still audible at highway speeds, in contrast to premium highway tires that are almost silent. The ride quality is excellent on metric sizes, though, and acceptable on LT sizes.
You can see more General Grabber HTS60 Review here: videos created by Suburban Tire Auto Repair Centers
Should I buy the General Grabber HTS60?
If you want a set of tires that provide a balanced driving experience on every surface, then yes, you should buy the Grabber HTS60. This is one of the few highway tires that has excellent on-road manners and that works on gravel, and perhaps the only one at this price point.