"This post contains affiliate links, and I will be compensated if you make a purchase after clicking on my links."
Source: Amazon
Pros
Lightweight Design for a Hybrid All-Terrain/Mud-Terrain Tire
Silicone Reinforced Compound for Improved Wet Traction
Chip Resistant for Rougher Off-Road Terrain
Deep Treads for Outstanding on and Off-Road Traction
45,000 Mile Treadwear Warranty
Cons
Excessive Road Noise on Dry Pavement
Ride Comfort Suffers in Exchange for Off-Road Performance
When you own a truck, SUV, or 4×4 capable of venturing into the wilderness, you know how important your tire choice is. You need a tire capable of traveling over asphalt to reach your ultimate destination where you will get to play in the mud for as long as you desire.
There is only one problem, finding a good tire suitable for both on and off-road performance can be tricky. Not all tires compare equally which is why you might want to consider this Dick Cepek Trail Country EXP review before buying new tires for your truck or SUV.
Trail Country EXP all-terrain and mud-terrain hybrid tires give you the best of both worlds, delivering solid performance on the tarmac with exceptional off-road capability. That's what you can expect from a tire that carries Dick Cepek's legendary off-roading reputation.
Fans of the old Dick Cepek Fun Country tires will notice an improved sidewall design featuring a more effective tread pattern on the Trail Country EXP. The Trail Country EXP is a more versatile overall tire design than the Fun Country.
For comparison purposes, the Trail Country EXP falls somewhere between the more road-friendly design of the standard Dick Cepek Trail Country tire and the pure off-roading Dick Cepek Extreme Country. The Trail Country EXP really is a true hybrid between an all-terrain tire and a mud-terrain tire.
If you are not familiar with the Dick Cepek brand of tires, they have been around for a long time. Dick Cepek started making off-road tires out of his garage in the 1960s. In the modern era, Dick Cepek tires fall under the Cooper Tires brand. That means these tires are manufactured in the United States.
What Are the Features of the Dick Cepek Trail Country EXP Tire?
It's impossible to ignore the stylish curb appeal of the embossed letters and aggressive outer shoulder of the tread pattern featured on the Trail Country EXP. This tire looks mean even when it is parked. The tread depth is 18.5/32" and you can really see it.
Dick Cepek uses a symmetrical hybrid tread pattern design on Trail Country EXP tires to deliver strong performance both on and off the roads. You can expect excellent off-road performance which is where these hybrid tires truly shine. The fact that you can drive these tires on paved surfaces without sacrificing performance or durability is really just a cherry on top.
More importantly, Dick Cepek uses a cut-resistant and chip-resistance compound using silicone reinforcement. This tire features a two-ply casing with a high-tensile body cord to strengthen the sidewalls. There are also two high-strength steel belts to provide additional reinforcement to the tread area and overall durability.
One nice thing about the high-tensile body ply cord design is how it can help improve ride comfort while reducing the overall weight of each tire in comparison to alternative designs. Don't expect a luxuriously smooth ride with these tires but they will ride a little nicer than some other hybrid tires do.
What Are the Maintenance Indicators?
Dick Cepek uses a standard tread wear indicator molded into the tread pattern grooves from the factory. This is a very convenient tread wear indicator system since it is right on the tires.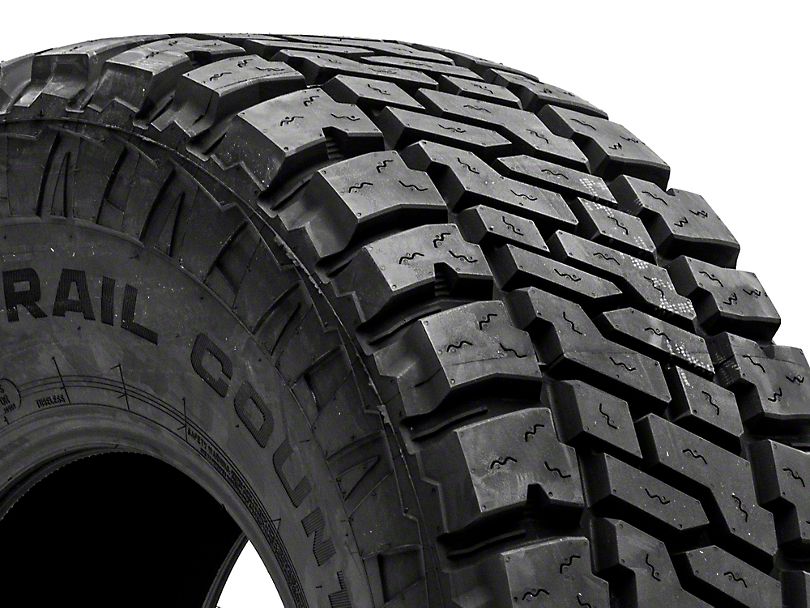 Their recommendation is very simple to follow. Once the tread depth gets down to 2/32" or about 1.6mm anywhere on the tire, it is time for a replacement. Always remember to put your safety first.
What Is the Treadwear Warranty?
Dick Cepek provides a 45,000 mile warranty on Trail Country EXP tires. There is no time limit for the warranty, just mileage. Their overall policy offers a free replacement within the first 2/32" of tread wear and then a prorated replacement if the tread is already worn past 2/32 of an inch.
By comparison, Dick Cepek's warranty on the Trail Country EXP is pretty standard in the industry when it comes to an all-terrain/mud-terrain hybrid tire. Other hybrid AT/MT tires such as the Atturo Trail Blade XT also feature a 45,000 mile warranty.
On the other hand, another very popular multi-terrain AT/MT tire is the Nitto Ridge Grappler. They do their warranty a little differently providing you with a 60-month warranty from the original purchase date.
An up and coming AT/MT hybrid tire is the Fury Country Hunter R/T. They boast an unlimited mileage, 4-year warranty with each tire.
There are a lot of different ways people shop for tires. The important thing is making sure you have the information you need to make an informed decision.
How Does It Behave on a Dry Tarmac?
This is a very stable tire offering plenty of traction on dry tarmac. There is a lot of rubber-to-road contact with the Trail Country EXP providing you with grip for days. This is actually a pretty sticky tire for dry tarmac compared to a lot of all-terrain/mud-terrain hybrids out there.
If there is one place where you will never have any traction issues with the Dick Cepek Trail Country EXP tire, it is on dry tarmac. The compound is stiff enough to wear evenly as long as the tire is properly mounted and balanced with the wheels in alignment.
One thing worth noting is you will notice some tire noise. This is not a pure all-terrain tire, it is a true hybrid between an all-terrain and a mud-terrain tire. Typically all-terrain tires are a little more mild when it comes to road noise in comparison to hybrids.
This tire features an aggressive tread pattern enabling it to perform very well off-road. As a result, you will notice some road noise when compared to a standard all-season radial or A/T tire. Don't worry, this is normal.
How Is It Over Wet and Slippery Roads?
Wet surfaces are no problem for these deep treads. Driving through rain or even some standing water is a breeze when rolling with Dick Cepek Trail Country EXP tires. You'll have plenty of traction and confidence cruising over wet surfaces as long as the driving conditions provide enough visibility and road surface to keep going.
Thanks to the combination of a silicone-enhanced tire compound along with deep tread patterns, wet or slippery roads feel grippy with these tires. There are very wide grooves in the tire featuring a pattern that clears water away from the contact area, or footprint, of the tire's pathway.
This kind of tread design helps prevent hydroplaning while driving over wet surfaces. Most of the water should get pushed away from the tire's footprint giving you confident traction when the rain comes down.
With That Being Said, How Is It on Snowy Roads?
Lighter snow is not a problem for this tire either. If your roads are plowed or if the snowfall does not exceed a foot or so, you should be able to maneuver with acceptable mobility using the Dick Cepek Trail Country EXP tires.
Dick Cepek uses very thin, interweaving sipes on the Trail Country EXP tire design. This enhances traction on snow and ice over traditional all-terrain tire tread designs.
Keep in mind, this is not a snow-specific tire at all. You will experience some slip and loss of traction in deep snow or on ice when using an all-terrain tire such as the Dick Cepek Trail Country EXP during winter driving conditions. If you are looking for pure winter performance, there are much better snow tire options available for your vehicle.
It is also worth mentioning the Trail Country EXP performs a little better in fresh or fluffy snow than it will over extremely packed or compressed snow. You might even find your ground clearance being a bigger issue when venturing off-road in deeper snow because these tires don't have a lot of quit in them.
Navigating roads with packed snow on them is a little different than an open field of fluffy snow. Although winter performance is pretty good for an all-terrain tire, these EXP tires still leave a little to be desired when it comes to driving in the snow on residential streets.
Driving on steep inclines with snow or ice is not encouraged with this tire. Whenever possible, always put your safety first. If you experience steep inclines such as spending a winter in the mountains, be smart and choose a suitable snow tire along with any appropriate accessories to accommodate the driving conditions.
Is It Suitable for Off-Road Driving?
Dick Cepek uses an aggressive and deep tread pattern on their Trail Country EXP tire. This kind of a tread pattern is one of the reasons why the Trail Country EXP performs so well in mud, dirt, sand, or even clay. Feel free to use the Dick Cepek Trail Country over rocky terrain as well, no sweat for these multi-terrain tires.
The secret is in the spacing between the ribs of the tread as well as the design of the tread in relation to its location on the tire. There is a tighter tread pattern along the center of the tire in comparison to pure mud tires. This tighter pattern enables the Trail Country EXP to grip pavement without sacrificing wet performance.
Along the outer edges of the Trail Country EXP tread pattern, there are wider gaps than the inner treads. This is where the mud-slinging magic comes from. These tires will grab and push sand, dirt, or even clay out of the way while still being practical for use on pavement.
Finally, you'll notice plenty of ribs and grooves in the blocks to take care of any protruding rocks on your overlanding adventures. These specific ribs are commonly known as stone ejectors on off-road tires.
Since you typically want to let a little air out of your tires when off-roading, Dick Cepek builds the Trail Country EXP using a two-ply construction method. That's where the sidewall lugs, or tread pattern grooves, come in handy. These shoulder lug notches and steps provide all the side bite you need on loose terrain.
When you lower the tire pressure for off-roading, you'll experience a little smoother ride over bumpy terrain. You also want to lower the tire pressure to provide the tires with more flexibility for overlanding obstacles. As the tire sidewalls sag a bit, they will mold the tire around obstacles such as rocks providing the grip you need to keep moving.
Some off-roading experts recommend a setting as low as 20 psi for extreme overlanding and off-roading with the Trail Country EXP. That should be enough pressure to maintain the bead of the tire while allowing enough flexibility for the tires to be effective in mud or over rocks and other obstacles.
Just don't forget to fill them back up to your desired tire pressure when you are ready to get back to the pavement. Failure to do so will definitely cause uneven wear on your tires while simultaneously making your fuel economy suffer.
Keep in mind, the grooves and tread pattern are not as wide on the Trail Country EXP as you will find in a pure mud-terrain tire. That is just a basic difference between an all-terrain tire and a mud-terrain tread.
This means although the Trail Country EXP performs very well off-road, it is still not a pure mudding tire. This is a tire featuring a very practical blend of on and off-road performance. Don't count on these tires to win Baja, but you can expect them to overachieve whenever possible.
Is Dick Cepek Trail Country EXP a Run Flat Tire?
No. These are not run flat tires. You will need to use your old-school tire monitoring skills with these tires but that allows for more versatility when venturing off-road.
Is It Comfortable and Refined?
All-terrain tires featuring an aggressive tread pattern typically make more road noise. If you primarily travel on dry paved surfaces, you may find the road noise of these tires to be unbearable at times. However, as soon as you experience the off-road capability of Dick Cepek Trail Country EXP tires, you may become more forgiving of the road noise.
If you are driving a 4×4 with a 3-inch lift and an off-road suspension, you are going to feel every bump you drive over with the Trail Country EXP tires on your wheels. If you have a factory setup on your truck or SUV, these tires will give you some vibrations on pavement that you are not used to.
These tires make a lot of contact with the surface below. You are going to both hear and feel that. Listen, this is not a smooth riding tire by any means. There is no way to sugarcoat that.
When you buy an all-terrain hybrid tire featuring an aggressive tread pattern like this, you usually intend to take your vehicle off-road or drive in more rural areas from time to time. If you are looking for a peaceful or comfortable ride, there are several quieter tire options that may be more suitable for your needs.
Should I Buy Dick Cepek Trail Country EXP Tires?
Overall, this is a very practical tire for anyone who wanders off the beaten path from time to time. It's not always easy to find a good tire capable of delivering off-road capability without sacrificing performance on pavement. The Dick Cepek Trail Country EXP will do exactly that.
With such strong traction both on and off-road, these tires provide a lot of bang for the buck. If you never intend to go off-road, this is probably not the right tire for you. Stick to a great all-season tire if you exclusively put highway miles on your SUV.
In budget terms, the Trail Country EXP falls in the middle. There are more expensive options available and there are more affordable options available.
For the money, the Dick Cepek Trail Country EXP is a great hybrid AT/MT tire for anyone looking to get their truck a little dirty from time to time. There's nothing wrong with that.